If you forgot your password, it's best to reset it (see instructions below).
If the system is telling you that you are locked out, you have entered an incorrect password too many times. Email support@hellotim.com and ask a TiM agent to unlock your TiM account for you. In the future, click the "Forgot password?" link after no more than one or two attempts so this does not happen again.
How to reset your password:
Go to hellotim.com
Click "Login". The login window will appear.
Click "Forgot password?"
Enter your email address (the one you originally created a TiM account with).
Click "Email Password Reset Link".
A link will be sent to your email address in order to reset your password.
Your TiM user account is unique to you, just like your cell phone number. If the system is telling you your phone number is in use, an account has already been created with that phone number -- Most likely, you've created an account in TiM before. Go to "Login" instead of "Sign up" and try a different email address that you may have used to create an account before.
*** DO NOT ENTER A FAKE or INCORRECT PHONE NUMBER TO BYBASS THIS STEP.  ***
If you are trying to sign up with an office phone number, use your cell phone number instead. Your office line may be yours for now, but if you change offices, someone else can take over that office line. It's always best to use the phone number and email address that will travel with you from project to project as your login.
TiM is a user-based system, which means successful functionality of TiM depends on each person having just one profile and one login, so they can access and track all of their projects in one place. If you create a duplicate profile or user account for yourself, your information will be divided and not easily accessible.
Your TiM Profile travels with you from one production to the next, so your login will too! Use the email address that will travel with you and allow you to log in to all future projects.
If you use a work-related email, and your work situation changes, you won't have access to that account anymore. It's best to link your TiM account to the account that travels with you, to ensure you receive production invitations and any other important messages relating to your start work.
If a production invite is sent to the wrong email address, production should delete that invitation and re-send your invitation to the correct email address.
You may add alternate email addresses to your Account Settings. When you do this, you will still login with your primary email, and any messages sent to those alternate email addresses will be forwarded via your TiM account.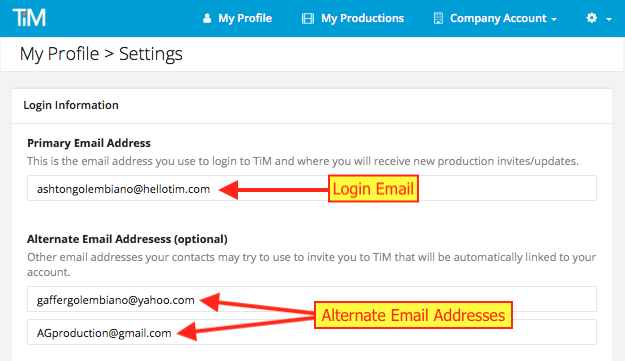 If you have any further questions, email: support@hellotim.com